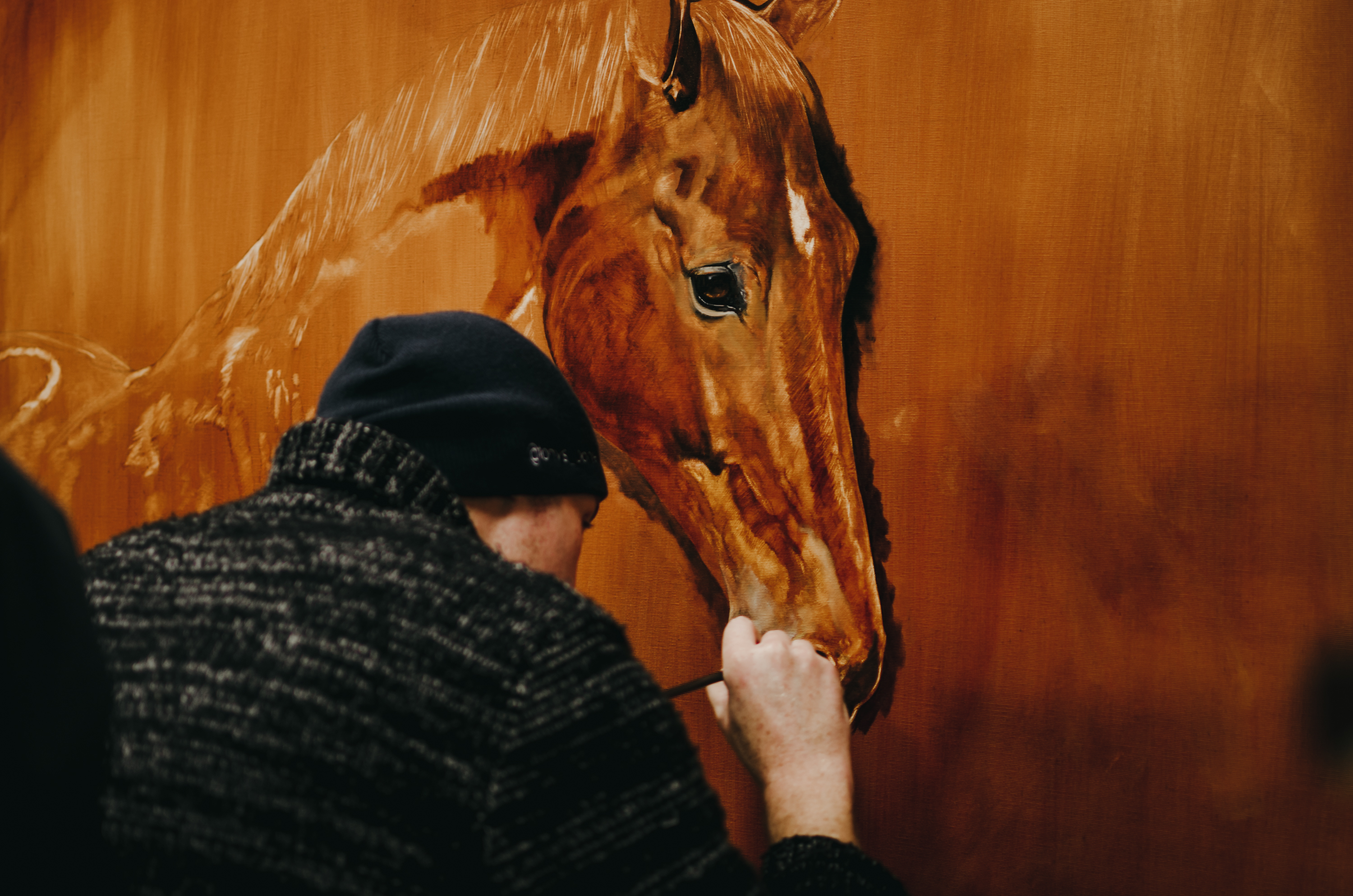 Tony O'Connor

Equine Artist
Ireland







Tony O'Connor's studio is not what I expect.

I am led past power tools of various shapes and sizes to a small back office in the Carey Tools warehouse by the river in Cork city. The first thing I see is the 3 by 5 foot canvas in the middle of the room. On it, a horse is starting to take shape. Scattered all around this small room are paintings and prints of horses, in different stages of completion. They look so life-like, it feels like some are staring back at us as we talk.

What first drew me to Tony's art is his singular choice of subject - he almost exclusively paints horses.

Take this: Tony's love for horses can be traced back to his own personal history. As a sixth generation blacksmith, he has early memories of the family forge, where they created shoes for the local horses in Kerry. Instead of going into the family business, he pursued his love for art at Crawford College of Art and Design, and found himself inspired to paint the majestic animal of his youth.


"I want to be known as
the go-to person in Ireland
if you want to get your horse painted."









Although he also paints other woodland animals, his love for the beauty of horses shines through even when he feels stuck. He admits that he works through slumps by sketching mythical horses - unicorns and pegasus - perhaps as a way to keep his mind focused on the form of the animal. In fact, it's probably the reason why he keeps most of his paintings without any elaborate background. This way he celebrates the natural physical beauty of each horse without anything distracting from its majesty.

After our short chat, he graciously lets me wander about his small space while he works intently on his artwork. There's music playing on the radio and the faint smell of turpentine in the air ("I'm so used to it!" he says). The serendipity of his story lies in the fact that this small studio space was Tony's exact office when he worked at Carey Tools, over a decade ago. He began pursuing his art by painting in the attic after work, before taking the leap to doing it full time.

I watch Tony dab his brush and add colour to the stallion's muzzle, each stroke measured and precise. According to him, his choice to leave his job to pursue his art was tough but it isn't something he regrets. With his sharp focus and discipline, it's not that hard to imagine how much farther he and his horses will go.




Find Tony's art here: http://www.whitetreestudio.ie/




Visited October 2018, published February 2019.